Description
The i.MX RT1062 Evaluation Kit (EVK) board is full-fledged and powerful  board built to address smart connectivity solutions.  It features NXP i.MXRT1062 ARM Cortex-M7 core at 600MHz.
The EVK comes with either M.2 or miniPCIe interfaces to host M.2 or miniPCIe cards for cellular, GNSS, or WiFi modems such as 4G/5G LTE Cat NB1-IoT/NB2-IoT/Cat 1/Cat 4/Cat 6/Cat 12/Cat 18. It can be used for other smart connectivity solutions such as WiFi, WiFi 802.11ac/ah, Bluetooth, or ZigBee.
The i.MX RT1062 is a processor family featuring NXP's advanced implementation of the ARM Cortex® M7 core, which operates at speeds up to 600 MHz to provide high CPU performance and best real-time response.
The i.MX RT1062 processor has 1 MB on-chip RAM. 512 KB. The i.MX RT1062 also provides various memory interfaces, including SDRAM, RAW NAND FLASH, NOR FLASH, SD/eMMC, and Quad SPI, and a wide range of other interfaces for connecting peripherals, such as WLAN, Bluetooth™, GPS, displays, and camera sensors. The i.MX RT1062 has rich audio and video features, including support for LCD display, basic 2D graphics, camera interface, and I2S audio interface. The i.MX RT1062 has analog interfaces, such as ADC, ACMP, and TSC.
Features
The EVK has the following hardware features:
NXP i.MXRT1062 ARM Cortex-M7 core at 600MHz
One USB 2.0 port
One USB 3 port connected to M.2 interface
miniPCIe or M.2 interface with USB interface to the ARM core
Dual micro USIM card slot (Push-Push micro USIM)
128 Mbits Dual/Quad SPI FLASH with XIP support and up to 532MHz clock speed
64 Mbits Dual/Quad SPI FLASH with XIP support and up to 532MHz clock speed
64 Mbits Standard/Quad Pseudo SRAM support up to 144MHz clock speed
SD/eMMC
One 10/100M Ethernet port
One JTAG/SWD interface
39 Arduino GPIO that exposes abundant
Top Side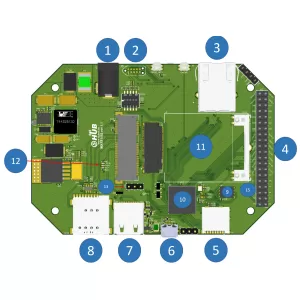 1- DC Power Jack (12V)
2- JTAG Interface
3- Ethernet port
4- Arduino GPIOs
5- SD Card
6- USB 2.0 port
7- USB 3.0 port
8- Micro SIM card slot
9- 64Mbits SPI flash memory
10- IMXRT1062 processor
11- miniPCIe (or M.2 Interface)
12- LEDs (PWR, USER, NET)
13- Power Jumper (J15)
Bottom Side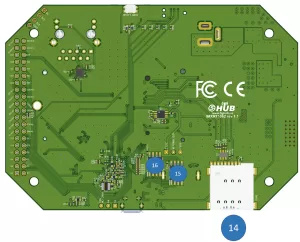 14- Second Micro SIM card slot (optional)
15- Pseudo SRAM
16- 128 Mbits SPI flash memory